Nurse's military training prepared her for ER, emergency response work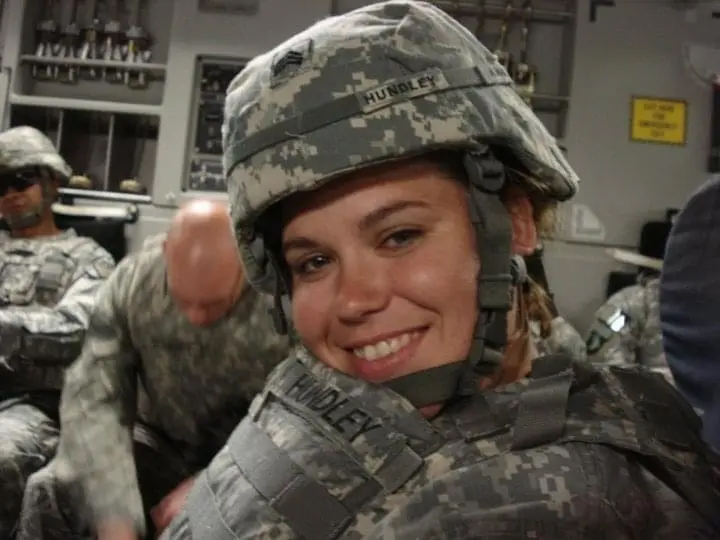 Molly Hundley-Levine has always had a passion for emergency response and helping others in times of crisis. Now the Emergency Department Nurse Manager at Ascension Seton Williamson, she previously served as a medic in the military for 12 years and was deployed to Afghanistan. "I saw trauma as well as the good work we can do to help people who have experienced trauma," Molly said. "This tied into my religious beliefs that we are all neighbors and are here to help each other."
Molly first worked at Ascension Seton Southwest in 2001 as an ER tech. "I loved the culture, family-type atmosphere and humble staff," she said. "It's an amazing community."
In 2016, she became a nurse in Virginia. When she moved back to Texas in 2017, she took a nursing position at Seton Harker Heights. Molly already had strong family ties to Ascension Seton. "My grandmother was an instructor in 1952 and worked at Ascension Seton and was also a Williamson County nurse leader. And my aunt was a nurse at Ascension Seton Medical Center Austin. I feel like I was born into it, in a way," she said.
Molly is part of Ascension Texas' Medical Response Unit, which helps areas of need after natural disasters such as hurricanes, tornadoes, floods or fires. One of the unique things about working at Ascension, she said, is that she is allowed time to also serve with the Emergency Management Task Force (EMTF) which takes assignments throughout Texas. These roles led to her recent deployment to Uvalde Memorial Hospital to help staff there get some much-needed rest.
"Uvalde taught me that even in the midst of catastrophe and sadness, we are all still brothers and sisters and have the ability to come together and uphold each other through the good and bad," she said. "During the wake of the tragedy, the Uvalde community saw love from all over the United States. Nurses came from all over Texas to give of their time, and healthcare workers at Uvalde were able to decompress."
Molly served in Uvalde for 20 days, working 12-hour shifts as the night charge nurse. "Not all hospitals let staff do that," she said. "Ascension allows me to do what inspires me, both as a bedside nurse and now as a leader."
In charting her career course and taking on leadership roles, Molly has been able to take advantage of Ascension's tuition reimbursement program as well. "I'm going to George Washington University and am in my last semester to receive my Master's of Science in Nursing: Nursing Leadership and Management," she said.
Molly said the sense of family at Ascension continues to this day. "I live in Killeen and have had opportunities to work closer to home," she said. "But because of Ascension's mission and values and the team that Ascension Seton Williamson has formed, I will continue to stay there. This organization has not only allowed me to grow as a leader, it has provided me with a family to serve with daily."